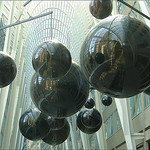 The Power of Small Wins – Harvard Business Review, by Teresa M. Amabile and Steven J. Kramer, May 2011.
The results of the research of managers perceptions shows that most (95%) fail to understand what is motivating to staff.
Make sure you read the section "A Surprise for Managers" section.  The author reminds us about Frederick Herzberg article from a 1968 Harvard Business Review article titled "One More Time: How Do You Motivate Employees?".
"People are most satisfied with their jobs (and therefore most motivated) when those jobs give them the opportunity to experience achievement."  It is not public or private recognition because without work achievements, there is little to recognize.
The full text of the article contains a "Daily Progress Checklist" for leaders to plan their managerial actions for the next day.  Will you support progress (acting as a a catalyst and nourisher) or support setbacks (acting as an inhibitor with toxins)?
[Image: Flickr user MelissaGoldstein]